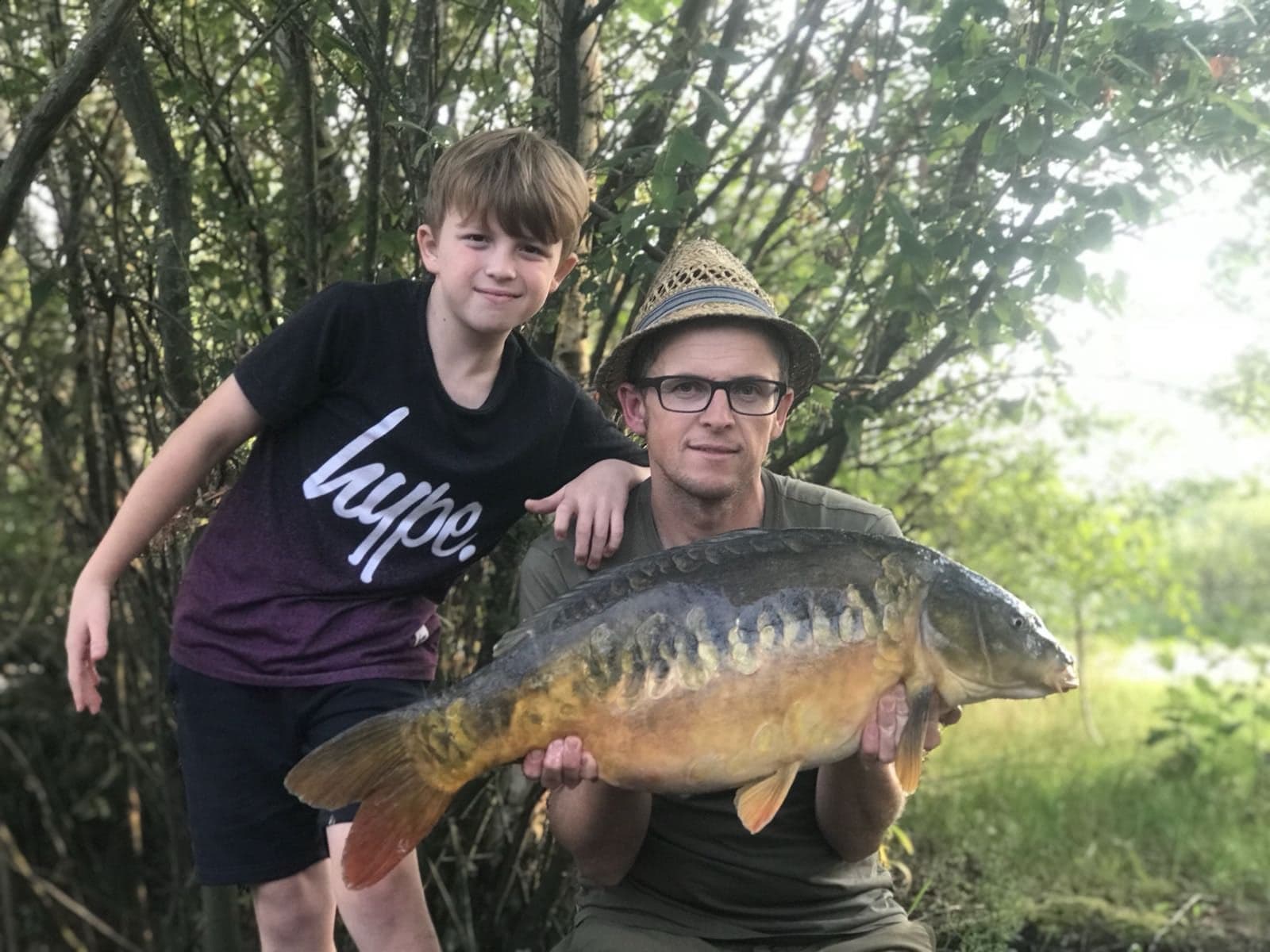 De Ronde Bleek is a privately owned lake in the Netherlands. The main carp lake is just over 6 acre and was meant to be part of a large trout fish farm. Through circumstances the development of the trout fish farm couldn't be completed and one of the 2 lakes that remained was stocked with carp. Because of the stagnating development the lake and the surrounding terrain has maintained an erratic but highly natural character.
The carp lake is surrounded by ground walls, trees, bushes and reeds. The lake and surroundings of the lake know a high level of biodiversity. The lake itself is characterized by a big variation in depth and different locations attractive to carp. Reeds, bars, plateaus and overhanging trees. Fishing at De Ronde Bleek is never the same and almost always a challenge. Circumstances in and around the lake always offer new challenges for fishermen that want to crack the code. Knowledge of carpfishing is important here and carpfishermen will most of the be challenged at De Ronde Bleek.
With a maximum of four fishermen there are loads of ways and spots to fish. Each well maintained fishing peg has a large fishing hut and with carp as big as 65 lbs De Ronde Bleek is a true Eldorado for carpfishermen.
Fishstock
The fish stock of De Ronde Bleek consists of circa 180 strong and healthy mirror, linear and common carp varying in size from 15 to 65+ lbs. In total there are 10 known fish over 50 lbs and about 25 carp over 40 pounds with numours 30 pounds.
The fish were stocked from 2009 in different phases. Last stocking was done at the end of 2019 when 30 of our own homebredcarp were introduced. The average weight of the carp is around 26 lbs.
In 2009 about 150 carp from 3 to 7 kg's were stocked. Besides these fish 50 of our own bred carp varying in size from 1 to 3kg's were introduced. Every year some of our home bred carp are introduced to the main lake. About 70% of the fish consists of mirror carp and around 30% are commons. Besides carp there are also some grass carp in the lake of which the biggest is over 1 meter in length and weighing well over 15kg's. There also 2 diamond sturgeons, a couple of tench and one european catfish swimming around at De Ronde Bleek.
The fish are all coming from acknowledged fish farms with a reliable origin. The currently biggest fish are mainly bred on De Ronde Bleek. The abundance of natural foodsources, the pleasant watertemperature (because of the depth) and the constant feeding of the fish maintain a healthy and well growing stock of carp. Our fish will not give up an easy fight

Go to Gallery

Swims & facilities
The main lake can be fished from two sides. The pegs are situated in a way that you can't be bothered by other fishermen fishing the lake. Peg 1 and 2 are one person pegs located next to each other. Peg 5 is a two person peg on the opposite side of the lake. The pegs are provided with a relatively high plateau to place your rods accompanied by a 'stair' to cope with the fluctuating water levels during the year. This is to make sure both fishermen and the fishes safety can be guaranteed. On each peg there is a weighing pole and unhookingmat available. Besides these retainer slings and landing nets are cared for so please leave these at home! On every peg there's also a boat available for which an electric motor and batteries can be rent.
To further aid the needs of some fishermen the peg is outfitted with a fishing hut of 3,6 x 4,25 meters. The hut is about 3 meters high and has a nice 'roof'. The huts aren't furnished but they will definitely keep you dry and comfortable if you wish to use them. It is still possible to place a tent or umbrella on the peg if you prefer.
Each peg offers a great variety in feature to fish. The pegs are placed in a way they offer enough privacy and to make sure fishermen can fish peacefully and relax. In our opinion the ideal carpfishing situation.
Directly near the water, situated near peg 2, the facilities are located consisting of a shower, toilet, freezer, refrigerator and electricity.
About 400 meters from the carp lake you also find a our person apartment which can be rent (also a possible to include breakfast).

Go to gallery

Lake Map and Depth Map
Prices & Reservations
PLEAS INQUIRE FOR RESERVATIONS IN ADVANCE. RESERVATIONS VIA E-MAI info@derondebleek.nl,  or by phone 00316 13 23 06 90, OR CLICK FOLLOWING BUTTO
Price 2022-2023
SWIM 1 (2 anglers per swim)
€ 350,- PER WEEKEND  (friday – monday)
€ 350,- PER MIDWEEK (monday – friday)
€ 700,- per week
SWIM 5 (2 anglers per swim)
€ 350,- PER WEEKEND  (friday – monday)
€ 350,- PER MIDWEEK (monday – friday)
€ 700,- per week
PRICES EXCLUDE € 100,- GUARANTEE PER SWIM, REGARDLESS THE NUMBER OF FISHERMEN PER SWIM
PRICE PER NON-ANGLER:
€ 15,- PER NIGHT
DOG:
€ 3,- PER NIGHT.
WHOLE LAKE
€ 700,- PER WEEKEND  (FRIDAY – MONDAY)
€ 700,- PER MIDWEEK (MONDAY – FRIDAY)
€ 1200,- PER WEEK (MONDAY-MONDAY OR FRIDAY – FRIDAY)

PRICE INCL. 35 KG MAIS & 21 KG PELLETS WORTH. € 60,-
Rent battery:
€ 5,- per day
Electromoter:
€ 15,- per dag
Baitprices
Only freshbaits are allowed for the health of our fish.
+/- 2 kg mais : 2,-
+/- 2 kg pellets: € 5,-
+/- 2 kg hemo: € 6,-
+/- 2 kg tigernuts: € 6,-